Asian Development Bank team holds discussion with road safety nodal officers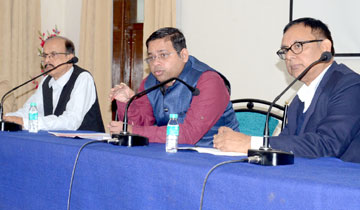 The Ministry of Road Transport and Highways, Government of India, is soon going to launch a 'State Support to Strengthening Road Safety Programme' in the state through the Asian Development Bank. In this regard, members of the Advisory Committee of Asian Development Bank held a discussion with the Nodal Officers of Road Safety Cell at the Police Training and Research Institute.
Among the team members Shri P.R. Devraj, Shri Girish Mishra and Sushri Sonal Shah held a meeting with officials of PWD, National High-way, MPRDC, Education, Transport, Health and Urban Administration Department. The members sought information about the effective measures taken to reduce the death rate in road accidents.
It was informed in the meeting that to prevent road accidents due to animals, Marg-Mitra have been made in the villages. Through them, efforts are being made to reduce road accidents in the last one year. Marg Mitras are honoured as a motivation. In every village with a population up to 500, Marg Mitras are trying to prevent road accidents. Road safety programmes are also being organized from time to time to bring changes in the behaviour of villagers.
A common platform for all ambulances is being prepared to ensure availability of ambulance. Ambulances are available at every 50 km distance on the national highway. In this direction, 606 life support 108-ambulances of the Health department are working. The work of construction of buildings in 44 districts to ensure availability of trauma centres in every district is almost complete out of which 41 trauma centres have started functioning.