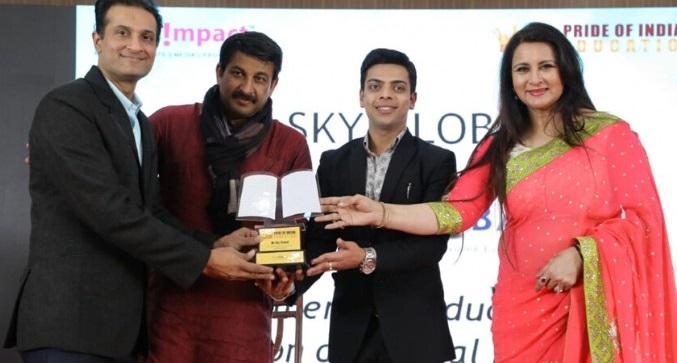 On Sky Global Initiatives:
On Sky Global Paves The Way For Education Amid COVID-19 Crisis
Tough time never lasts, but tough people do! The present time is witnessing one of the worst Pandemic being faced by human civilization. What has made the matter even worse is the fact that this catastrophe has struck almost all the countries across the globe at the same time, which has never happened in the history of mankind.
On Sky Global, a USA based education institution specializing in providing skill-based job-oriented courses stands firmly to help the people with all its might to fight this pandemic.
As announced by its Executive Vice President, Dr Varun Gupta, On Sky Global has decided to provide 100% Tuition fee Scholarships to all the students enrolled in the month of April 2020 of all of its franchisees operating in South Asian & African Countries viz. India, Sri Lanka, Myanmar, Bangladesh, Cambodia, Rwanda, Uganda, Kenya, Ghana, Vietnam & Philippines etc.
It is prudent to share here that On Sky Global comprises a rich portfolio of professional certification courses across Technology, Business, Digital Marketing, Project Management, Finance, Language and Heath & Wellness domains which are taught to thousands of students through its global associates. These courses are designed as skill Based Job ready courses to enable students to enhance their career prospects immediately upon completion of the same.
"On Sky Global is working in close coordination with all its franchises to ensure that those students who are stuck at home due to lock-down or curfew, been imposed by their respective governments, should receive the lesson plans & study material through online mediums available with them so that their studies continue with minimum disruption," stated Dr Naresh Malhotra, Vice President, Global Enterprise Development.
Further, in an advisory issued by the president of On Sky Global, Prof. Gregory Baker, the whole team of On Sky Global comprising all its international franchises have to conduct public awareness campaigns regarding Corona Virus. This move is intended to educate the students, support staff & public, in general, to maintain personal hygiene and follow safety practices to safeguard themselves and their families from the clutches of this fearsome pandemic.
Dr Varun also added his views stating that this virus outbreak has to be dealt with patience and mutual cooperation at the community level and it will be achieved only by educating, guiding & encouraging each other leaving behind mutual differences.
Dr Naresh Malhotra coined a few steps to strengthen On Sky Global's 'Lets Beat Corona' Campaigns. He said, "Firstly, the people should be made aware that the COVID-19 Coronavirus is curable and avoidable too. There is no need to panic. Don't be afraid of Corona, just be careful. Your alertness will save you as well as your family from getting infected. Secondly, there is a dire need to create awareness about social distancing to encourage people to stay home with their families. Lastly, we need to create a disciplined system of distribution for daily essentials."
"How to maintain social distancing while buying daily essentials from the shops, how to use digital payment gateways instead of currency notes or coins, how to sanitize oneself before entering back home, how to disinfect fruits & vegetables or other items purchased from the markets and many other similar topics are there to be discussed upon with the community at large. Our unity can beat this pandemic and steer us out of this challenging time," explained Dr Naresh Malhotra.
Dr Varun Gupta has also requested all the teammates of On Sky Global to perform Puja (worship), chanting & prayers on daily basis at least two times in a day with the focus on whole mankind and not just their individual families. He strongly believes in the positive power of prayers. He emphasizes that this is the right time to perform prayers so that the pandemic wades away quickly.