Identified hot-spot areas must be total sealed: Supply chain must continue
CM Shri Chouhan reviews Corona situation and preparedness in video conference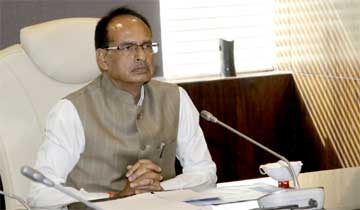 Chief Minister Shri Shivraj Singh Chouhan has said that best remedial activities must be undertaken in the state to protect against Corona. Arrangements to ensure best treatment to Corona patients must be made. Those who show signs of Corona must be tested immediately. Hotspots identified in the infected districts must be total sealed and supply of essential commodities, milk, medicines etc. should be ensured through the district administration. Chief Minister Shri Chouhan was reviewing the situation and arrangements in the state through video conferencing with senior officials in Mantralaya.
The Chief Minister directed that the hot-spot areas of 15 Corona-affected districts in the state should be total sealed. Corona affected Bhopal, Indore and Ujjain have already been sealed. Supplies of essential commodities, medicines, milk etc. in hot-spot areas will be ensured through the district administration. Traffic in these areas will be completely restricted. The Chief Minister directed that it should be ensured that supply chain is not affected anywhere.
Most Corona patients are recovering
It was told in the meeting that most of the Corona patients of the state are recovering and returning home. Today, 16 Corona patients from Indore have been discharged after recovery and 10 more patients will be discharged a day later.
46 areas of 15 districts declared hot spots
A total of 46 areas of 15 districts of the state have been declared hot spots. Here cases of Corona infection have been detected. Eight areas of Jabalpur district, 6 of Gwalior district, 5 of Khargone district, one of Morena, one of Shivpuri, 5 of Barwani, one of Betul, two of Vidisha, one of Sheopur, five of Chhindwara, one of Raisen, three of Hoshangabad, 2 of Khandwa, one of Dhar and 4 areas of Dewas district have been declared hot spots. Instructions have been given to seal all these areas.
Number of infected persons rises to 397
Additional Chief Secretary Health Shri Mohammad Suleman said that the number of Corona-virus patients in the state has risen to 397, out of which 24 people have died. The number of infected patients is 221 in Indore, 98 in Bhopal, 11 in Ujjain and 12 each in Morena, Khargone and Barwani. These districts are more infected with Corona.
Testing capacity increased to 1050
Chief Secretary Shri Iqbal Singh Bains informed that the Corona-virus capacity of the state has increased to 1050 per day. Sufficient testing kits are available. Adequate number of PPE kits are also being made available.
Telemedicine should be used for treatment
The Chief Minister directed that arrangements for treatment of common diseases have been made online by doctors from all over the country through telemedicine. Collectors in all districts should provide benefits of these services to the people and local doctors should also be linked to it.
IIFA amount to be utilised for Corona assistance
Chief Minister Shri Chouhan said that a big event IIFA was going to be organized in the state. In the wake of Corona crisis, if the amount spent on IIFA is given to the Chief Minister's Relief Fund for Corona assistance, then a large number of people can be assisted.
Detailed action plan
In the meeting, Additional Chief Secretary Health Shri Mohammad Suleman presented a detailed action plan "State Response Strategy Covid-19" to address the Corona crisis in the state through a power point presentation. The Chief Minister gave instructions to implement the action plan effectively in the state in accordance with the instructions of Government of India and I.C.M.R. guidelines.