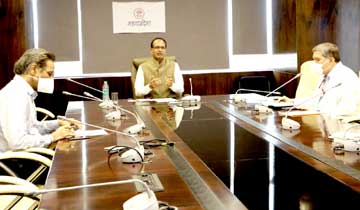 Private medical personnel engaged in preventing Covid-19 infection will also be insured: CM Shri Chouhan
GWALIOR SANDESH: Private doctors and medical workers directly engaged in the fight against Corona virus infection in the state will also be insured for Rs. 50 lakhs like government medical workers. Chief Minister Shri Shivraj Singh Chouhan made this announcement today during the video conference in the request of private doctors to prevent Corona infection. The Chief Minister thanked the private doctors for their encouragement and cooperation in the battle against Corona infection.
Chief Minister Shri Chouhan instructed the Principal Secretary Health to keep a list of the mobile and telephone numbers of doctors ready on telephone to make telemedicine arrangements. Shri Chouhan said that doctors will be able to buy rapid test kits themselves. The Health department will check its authenticity. He said that there will be separate hospitals for Covid and Non-Covid-19. On the demand of PPE kit by doctors, he said that earlier this kit was being made through the Government of India, but now the production of this kit has started in Pithampur along with Budhni in the state itself. He said that the Health department will list it on the basis of demand and availability.
On Dr. Pradyumna Pandey's problem of keeping the body of the deceased Corona victims in mortuary till reports comes, he was told that the order has now been revoked. The dead person can be cremated without waiting for the report to come.
Dr. S.P. Dubey co-ordinated in video conferencing Among those doctors present online in the video conference were Dr. Jamdar, Dr. Shekhar Shrivastava, Dr. Anoop Hajela, Dr. Randhir Singh, Dr. Sharda, Dr. Rahul Khare, Dr. Manisha Khare, Dr. Dinesh Majumdar, Dr. Sanjay Gupta Dr. Sanjay Agarwal, Dr. Sudhakar Vaidya, Dr. Sushil Gupta, Dr. P.N. Agarwal, Dr. Rajesh Dhirwani and Dr. Shailesh Lunawat of the Private Doctors' Association.