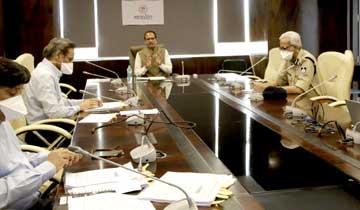 Enterprise must be started by strictly following the guidelines
Chief Minister holds discussion with industrial representatives in video conference
Bhopal : Chief Minister Shivraj Singh Chouhan has said to the industrial representatives of the state that with your cooperation, the economy of the state will be restored. Chouhan said that strictly following the guidelines issued by the Government of India, the industries listed in it should be start operating from April 20. He said that it should be kept in mind that no labourers from the infected areas should come to work. All protective measures such as masks, sanitizers etc. should be used at work areas. As far as possible, arrangements should be made for the workers to stay at the work place. Shri Chouhan was holding discussion with the industrial representatives of the state in a video conference in Mantralaya. Chief Secretary Iqbal Singh Bains, Director General of Police Vivek Johri, Principal Secretary Industries Rajesh Rajora, Director Public Relations O.P. Srivastava was present in the conference.
Effective strategy for prevention and treatment of Corona
Chief Minister Shri Chouhan informed that an effective strategy is being worked out for prevention and treatment of Corona in the state. There are 9 test labs working continuously in the state. The state's testing capacity is increasing continuously. Testing samples are also being sent to Delhi in a special aircraft. Survey of about 4 lakh persons has been conducted in Indore. The best arrangements for treatment are being ensured. With the cooperation of all, we will defeat Corona soon.
PPE kits of Madhya Pradesh are of high quality
The Chief Minister told the entrepreneurs that PPE kits made by them in Madhya Pradesh are of best quality. You deserve congratulations for this. He told that today about 10 thousand kits are being made in the state every day. Hydroxy-chloroquine tablets are being made in many of our factories.
Suggestions are important
Chief Minister Shri Chouhan told the industrial representatives that the suggestions given by them are important. You will be given every possible facility in the operation of industries by following the guidelines. It must be ensured that Corona infection does not spread at all in the operation of industries. Corona infection must be controlled while running the industry.
Lodging arrangement for labourers
Chief Minister Shri Chouhan asked the industrial representatives to ensure lodging arrangements for the labourers at the work place itself as far as possible. If at all commuting to and fro is necessary, then they must be seated in vehicles with social distancing and this should be taken care of at the workplace as well.
Permission will be given
The Chief Minister said that the industries will get the necessary permissions to run the industries from April 20 soon. Along with this, passes will also be received by the Department of Industries in collaboration with the district administration for commuting to and from the workplace.
MPINFO