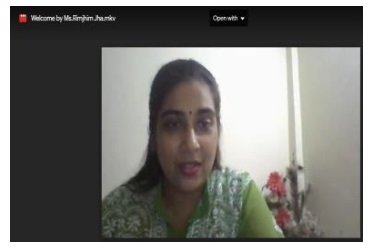 Amity University organized workshop on Managing and Creating Online Classes
GWALIOR: Amity Business School, Amity University Madhya Pradesh organized 5 days online workshop for teachers on 'Managing and Creating Online Classes from 23-27 July, 2020. Academicians, from various states like Odisha, Andhra Pradesh, Himachal Pradesh, Punjab, Madhya Pradesh etc. participated in this Workshop.
The Workshop was started with welcome note given by Dr. Neeta Saxena & Ms. Rimjhim Jha of Amity Business School delivered the opening remarks and shared their views. Recorded video lectures were uploaded along with quizzes and assignments.
According to (Dr.) Anil Vashisht, Director Amity Business School, Five days workshop has been organized to train the participants and make them aware about various useful open educational resources for creating interactive online classes. Workshop covered the topics as Tools of e-content creation, basic technology for managing online classes, handing attendance, assignments of students and to create online quizzes, use of open source tools for editing, screen capturing, editing and recording PPTs with audio and video.