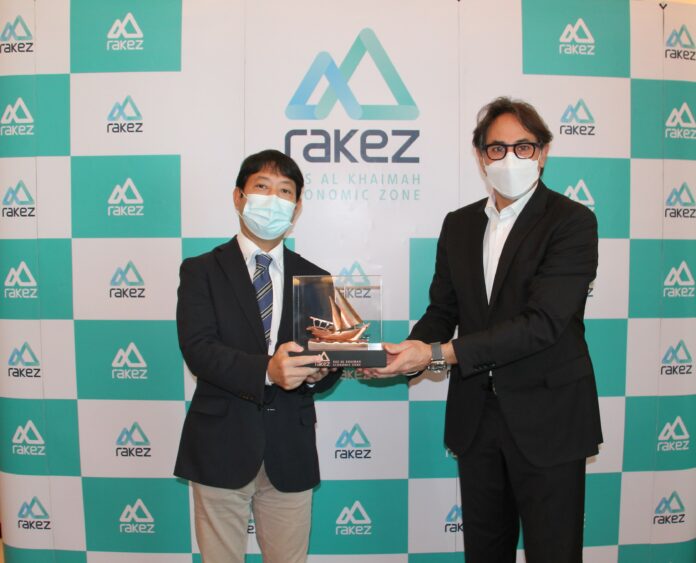 Ras Al Khaimah: Ras Al Khaimah Economic Zone (RAKEZ) has welcomed Japanese External Trade Organization (JETRO) to its headquarters, an entity that promotes mutual trade and investment between Japan and other countries. Led by Masami Ando, Managing Director of JETRO Dubai, the high-profile delegation was introduced to the extensive advantages of setting up base in Ras Al Khaimah via RAKEZ.
During the visit, RAKEZ Group CEO Ramy Jallad and the business development team held productive discussion with the delegates that focused on various solutions offered by RAKEZ to help Japanese firms in maximising their export potential to the Middle East and North Africa (MENA). This was followed by a tour at RAKEZ Al Hamra Industrial Zone, including facility visits to some of the economic zone's major manufacturers.
Currently, around 50 companies in RAKEZ are Japanese-owned and some of the prominent Japanese brands flourishing in the RAKEZ ecosystem are: Takenaka Middle East, manufacturer of advanced metallic coating systems; Nihon Mesh Kogyo UAE, producer of mesh demisters; and Tsukiji Koyo, maker of automotive and industrial bearings.
"We are honoured to host the members of JETRO, and let them experience Ras Al Khaimah and the RAKEZ environment where several Japanese SMEs and industrial players are already flourishing," said Mr Jallad. "The meeting also served as a great opportunity for us to explore ideas that can further strengthen the ties between the UAE and Japan, as well as gain insights on how we can better support Japanese investors in tapping the MENA market."
Mr Ando said: "It was definitely a great opportunity to exchange ideas with Mr Ramy Jallad. What we enjoyed most was that we saw the full potential of Ras Al Khaimah as a business and industrial hub through the companies that we have visited. We are looking forward to further collaborate with RAKEZ."
With a diverse business community hailing from over 100 countries, RAKEZ is continuously building relationships across the world to attract more foreign direct investments to Ras Al Khaimah and further diversify the emirate's booming economy.