Address by SEIAA Chief Shri Rakesh Shrivastava at "Environmental Permission and Compliance" Workshop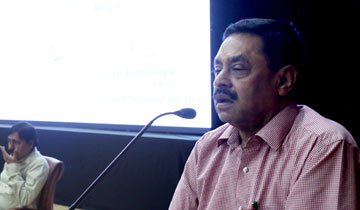 The State-level Environment Impact Assessment Authority (SEIAA) Chairman Shri Rakesh Shrivastava has said that maintaining environmental balance and conservation along with development is our top priority to save life on earth. He said that SEIAA work is connected with social concerns as well as the continuity of life. Shri Shrivastava was addressing the "Environmental Permission and Compliance" workshop held at the Academy of Administration here today.
Referring to the situation created in Delhi due to environmental imbalance, Shri Rakesh Shrivastava said that the eastern part of Madhya Pradesh is also being affected by this situation. Referring to the system of green tax for environmental conservation in Shimla, Mussoorie and Nainital, Shri Shrivastava said that it is very important to make the common citizen literate in terms of environmental protection. Only by doing this can we sustain life on earth.
SEIAA Chairman Shri Rakesh Shrivastava said that our elders handed over an enriched environment but what kind of environment we will be leaving for our coming generation is a matter of contemplation. He asked the officials to visit the area at the time of permission of the mines and get the written assurances strictly followed. Endorsing the need for plantation after the permission of the mines, Shri Shrivastava said that it is necessary to do social work through CSR / CAR based on local needs.
Chairman of State-level Expert Appraisal Committee (SEAC) Mohd. Kasam Khan said that at the time of approval of the mine, a list of roads, trees, canals, rivers must be put up and it should also mention how many mines are in the 500 meter radius. Shri Khan said that sand mines should be allowed keeping in mind the environment conservation.
The workshop was also addressed by EPCO Executive Director Shri Jitendra Singh Raje. On this occasion Dr. Munna Shah Joint Director Environment Forest Government of India, SEIAA member Shri R.K. Sharma, Mining Officers, Mine Owners and other officers were present.