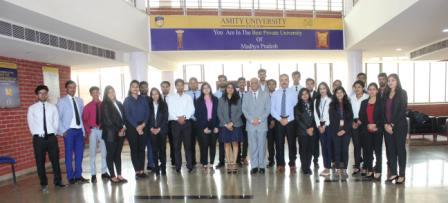 Sunil Goyal
Amity University Madhya Pradesh achieves 95.28% placement in 2018-19
GWALIOR : Amity University Madhya Pradesh, Gwalior (AU MP) successfully completed the 100% placements for its 6th MBA Batch. Overall university campus placements achieved 95.28% for its graduating batch in June 2019.
Lt. Gen. V.K Sharma, AVSM (Retd.), Vice Chancellor AU MP Gwalior said, "The response received from the industry was overwhelming with many multinational companies as well as Fortune 500 recruiters making their presence felt in the process. A total of 78 companies from various sectors participated in the process." 
The highlight of this year's Campus Placements activity is that companies started visiting the campus two months earlier than last year, with AU MP's first placement coming through on 16th August 2018 with TEKSystems recruiting 6 B.Tech CSE / IT students at Annual CTC of INR 6.60 Lac Per Annum and highest CTC offered by Tata Consultancy Services(TCS) of INR. 7.50 Lac to Engineering students. In addition to this IT companies, FMCG, Pharma, Consultancy and Manufacturing companies visited the campus in full strength and with greater pay offers. 
Prominent among the companies which participated in the process are Flipkart, TCS, WIPRO, Tommy Hilfiger, HDFC Bank Limited, Asian Paints, Hitachi, SAP Labs, Reliance Industries Limited, Ceasefire Industries Limited, Gujrat Heavy Chemicals Limited, S&P Global, Asahi Glasses India Limited, NIIT Limited, IBM, Café Coffee Day, ASK Automotive, NTF India TEKSystems, Mphasis, XORIANT, ZYCUS, William Penn, MAQ Software, India Hume Pipes, Sanoh India. 
The most noteworthy placement event has been the recruitment of 26 AU MP Students at one stretch by William Penn in various competency fields. This recruitment is so far the highest campus placement in the Gwalior area campuses. The compensation levels offered to students has gone up nearly by 23% this year in B.Tech Engineering. 95.28% of the final year students have been placed compared to 91.23% in previous year. 
Law Firms offered internships to 100% of the batch with JLJ Law Offices being the biggest recruiter in terms of number of students hired. Other top LPOs / Law Firms like Pramata Knowledge Solutions, DS Legal, ASC Solicitors, Trans India Law Associates, My Advo.inQUISLEX also made a good number of offers to Law students of AU MP. 
Though companies from multiple sectors have recruited AU MP Students, the top sector to recruit largest number of AU MP Students again remained from Management. Amity Business School led the race illustratively by witnessing 100% placements for its students. Management students are selected by Flipkart, HDFC Bank, Amba Shakti TMT, Tommy Hilfiger, Ceasefire Industries and so on.
100% biotechnology students placed in large numbers by prestigious companies like Wilshire Pesticides and Fertilizers, SGS Consulting, Artech Infosystems, Net2Source and more. 
Key Highlights of the campus placement 2018-19
1019 Job opportunities have been created from 78 companies. 
274 plus job offers were rolled out for 242 students. 
95.28% Campus Placement of Amity University. 
100% Campus Placement of Amity Business School. 
100% Campus Placement of Amity School of Communication. 
100% Campus Placement of Amity Law School. 
100% Campus Placement of Amity Institute of Biotechnology. 
92% Campus Placement of Amity School of Engineering & Technology. 
75% of University students having job offers much before the start of their final semester. 
Highest salary offered is Rs. 12.02 lakh 
14 companies offered CTC of Rs. 5.00 lacs or more 
The recruiting companies were extremely satisfied with the aptitude of the students and 
expressed their wish to establish long term relationship with AU MP Gwalior.